What Will You Need?
AWS User With Administrator Permissions – (the CloudFormation template creates resources that require a higher permission set)

Existing Dash ComplyOps Platform in your AWS account

About 5 minutes of time
Uninstalling Dash
1. If you are uninstalling the Dash application and are planning to update or reinstall the application, you should create a backup of the Dash application data by taking the following steps:
For Dash v2.4.0 and above, your team can take the following steps to backup existing application data:
Login to your Dash application and navigate to the Settings Page.

Click on "Backup and Restore" in the Settings menu options.

Click the "Create Backup" button. A loading screen will appear for 10 seconds or longer.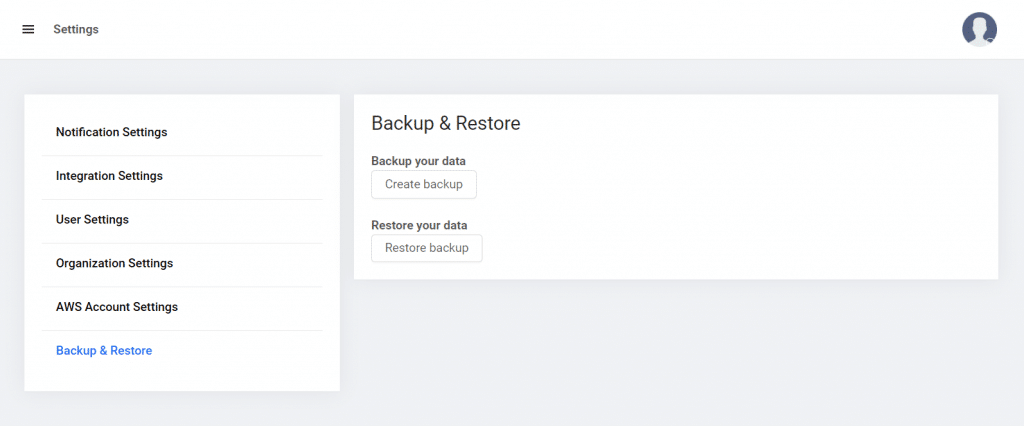 To Complete the Uninstall Process:
2. Login to the AWS Console.
3. Navigate to the Region Dash ComplyOps is installed
4. Navigate to CloudFormation > Select your Dash ComplyOps CloudFormation stack
5. The S3 bucket associated with Dash must be manually removed to completely delete the Dash CloudFormation stack
If you are migrating or plan to reinstall Dash, please ensure that you have created a backup of Dash before performing the next steps.

Navigate to the "Resources" tab of the CloudFormation stack > Search for "s3"

Copy the S3 ID listed under Physical ID and navigate to S3 in another tab.
6.**PLEASE NOTE: If you are reinstalling another instance of Dash or need to access your Dash application data later - ensure that you have successfully created a backup via the Dash backup process**
7. In S3 > Copy the Dash Bucket ID (IE. dash-asd97f-fks89-if98f-sdf907)
Navigate to the top level of S3

Copy and paste the Dash bucket into the search box.

Select the Dash bucket matching the ID (Ensure that this ID matches the CloudFormation)

Click "Empty" > Follow directions and confirm Emptying of Bucket

Go back to S3 list > Select Dash bucket again

Click "Delete" Follow directions and confirm Deletion of Bucket
8. Navigate to your CloudFormation stack > Select "Delete Stack"
9. The CloudFormation stack should start the deletion process and end with the stack being deleted.
Unsubscribing From Dash ComplyOps
Teams that need to unsubscribe from the Dash ComplyOps service can read the following documentation. Once you have confirmed that you have uninstalled Dash, In order to unsubscribe from Dash ComplyOps and stop all future billing with Dash, your team should take the following steps:
Login to the original AWS account > Navigate to "AWS Marketplace Subscriptions"

Navigate to "Dash ComplyOps" > Click the "Manage" button

Click "Actions" > "Cancel Subscription" > Confirm Unsubscribe
Please Note:
Customers who have subscribed to Dash ComplyOps via a "SaaS Contracts" cannot unsubscribe until they have reached the end of their contract period (IE. month, year, etc). You can contact Dash Support for more information about SaaS Contracts.